Abbots Pool Working Party November
Starts: 15 November 2020 10:00
Ends: 15 November 2020 12:00
Location: Abbots Pool
We had a lovely morning on Sunday 11 November getting back into the swing of working parties. It was the perfect autumn day; the colours were just glorious.  North Somerset Council had done a lot of clearing and cutting back of summer growth in preparation for the pool opening and  we were able to focus on the finishing touches with the help of an excellent turnout.

We cut back low hanging branches on the bridle path at the Sandy Lane entrance, removed all the logs that had built up in the cave, cleared the cascade and cut back the growth on the banks each side.  We also cleared out the drains above the car park and did a thorough litter pick.
The top path up by the kissing gate has well and truly over grown and as there is another path just below it, we have decided to leave this path as encourage further regrowth in this area. Please use the lower path: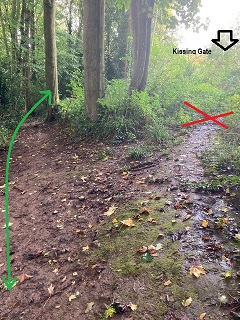 The working party's aim is to keep this asset on our doorstep looking great.  We maintain the pool and surrounds by:
removing invasive species;
maintaining utilities within the pool area;
litter picking;
clearing leaves;
removing fallen trees from pathways;
rebuilding dead hedges; and
removing detritus from the cave and the cascade.
It's a great way to do your bit for the community, get outside meet your neighbours, enjoy nature, coffee & chocolate biscuits and feel virtuous having done something good for the community.  If you want to know more email Jo Chiverton.