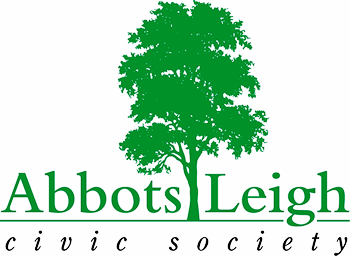 Jane Gibbons writes:
We hope that you all enjoyed the Jubileigh weekend.  The Abbots Leigh community certainly did!  There was a great turn out to help with bunting, balloons and flags (photos on the village website) and the village looked splendid.  The children who won the Crown Decorating competition were very happy with their enormous bars of chocolate. Thank you for your fabulous crowns: Daisy Cooper, Grace Allen, Francesca Burnand, Martha Burnand and the overall winner, Isobel Broggio.  The Bike Café kept us all going with their delicious coffee and cakes.    

The Red, White & Blue Party was a great success – despite the deluge, the band played on and the singing continued in fine voice, and not so fine voice too!  Thank you to The George for hosting such a fun afternoon.
The village events were topped off with the wonderful Swallows and Amazons event at Abbots Pool run jointly by Abbots Leigh Wildlife Group (ALWG) and the Civic Society.  It was enjoyed by lot of families.  The treasure hunt and boat racing were particularly popular, with treats for all the little ones and many new friendships made. Special thanks to Jo Chiverton and Di Murray of ALWG.  You can find out more about their fine work here.
Bike Shed Café Coffee Mornings are paused now for the summer holidays and will resume in September on the second Friday of each month.
Summer Garden Party will now be held on Saturday, 2nd July, from 6pm to 8pm, in the gardens of Abbots Leigh Manor. This is a lovely early evening event of Fizz and Canapes and is the perfect way to catch up with old friends and make some new friends too.  Buy your tickets here.
Abbots Leigh Tennis Tournament is a hotly hotly contested tournament held within the village, followed by refreshments.  If you would like to play then please text Drew Smith on 0796 748 3005 with your name, number and email address. There will be a maximum of 16 players and we would ideally like equal numbers of men and women. First come, first served! (ha, ha). If there are 16 players who wish to play then the tournament will start at 12pm.
Festival in the Field will be on Sunday, 11th September:  A traditional afternoon for families with live music, hot dogs, the superb Village Bake Off competition, children's games and the infamous Tug of War.
Bonfire Night – Saturday, 5th November.  This annual extravaganza is very popular and held in the School Playing Field.
Children's Christmas Party – Sunday, 4th December.  Entertainment, games and a visit from the big man in the red suit. All of our events rely upon the marvellous volunteers so if you would like to get involved, meet new people and generally lend a hand then we would love to hear from you.

We always want to hear any new ideas or suggestions that would help our lovely community. So please do email Debbie Nelmes or Jane Gibbons.
All residents of Abbots Leigh are deemed to be members of the ALCS and are thus very welcome to attend any of the events it organises.  We very much hope that everyone who lives in the village see the ALCS as their Community Group.
We help to organise various activities and events, which utilise the local facilities and talents of the villagers. In particular we focus on making use of the Village Hall and the Old School Field (opposite Abbots Leigh Church on Church Road).
Our two main annual community events are The Festival in The Field (FITF) on a Sunday afternoon in early September and Bonfire Night which we always hold on the 5th November.
Both of these events take part in the Old School Field and we are always looking for new people to help out at these events. Even if you can only spare an hour or so we would love to hear from you (see contact information below).
We also run:
Easter Egg Hunt on Easter Sunday.

Summer Drinks Party in mid/late June.

Village Tennis Tournament in July/August.

Childen's Christmas Party in December.
We advertise our events in The Link and at least in the main village noticeboard in front of the Village Hall.  If you would like to receive email reminders, please sign up here.  The Society are corporate members of the Forest of Avon Trust.
The bonfire night & firework display usually makes a surplus but we aim to break even over the year. We use any surplus funds for the benefit of the community, principally by assisting the Parish Council with projects relating to the Old School Field and the Village Hall.
Committee & Contact Information
We have a committee:
Jane Gibbons (Joint Chair)
Debbie Nelmes (Joint Chair)
Paul Whitehouse (Secretary)
Ian Larthe de Langladure (Treasurer)

Adriana Allen

Jon Brewer

Henry Burnand

Rachael Doherty
Paulina Gillespie
Murray Stewart
Gabi Watson
which meets several times a year to plan events and discuss matters concerning the village. We also have between 20 and 30 people who actively help organise and run our events.  We are always looking for new people who will help with events and/or join the committee.
You can download the latest Committee Minutes here.
We hold our Annual General Meeting (AGM) in mid January in the Village Hall.  Everyone is very welcome to attend. Wine is provided!  This year's AGM Minutes can be downloaded here.
Any enquiries please email Jane Gibbons & Debbie Nelmes
or Paul Whitehouse (Secretary) m 07813 802 783, t 01275 373137