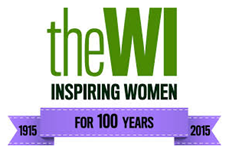 We are a small friendly group of ladies of all ages from Abbots Leigh, Leigh Woods, Ham Green and the surrounding area. We have an active calendar of monthly meetings held in Abbots Leigh Village Hall on the 2nd Tuesday in the month from 7.30 - 9.30pm.  Why not come along to one of our meetings?
The Women's Institute is the largest women's voluntary organisation in the United Kingdom with over 220,000 members. It is non-sectarian and non-political and is a democratic educational and social organisation offering women the opportunity of working and learning together.  It aims to improve the quality of life in the community and to enable development of individual skills and talents.
Annual subscription to the WI allows every member to enjoy membership of Abbots Leigh, the Avon Federation and the National Federation. There are over 100 WI's in Avon and nearly 5,000 members. Each WI organises its monthly meetings usually with a speaker plus other activities. The idea of the WI is to have fun and friendship.  Its magazine WI Life is sent eight times a year free to members.
Email Donna Butcher or call her on 01275 375378 for more information.