The Abbots Leigh Heritage Group, working under the auspices of the Civic Society, aims to uncover, document, record and store information about the village past. Activities undertaken have included the preparation of a history of Abbots Pool and the dwellings around it, mapping of the graves of the Upper and Lower Churchyard, celebration of the centenary of the sale of the Abbots Leigh Estate, and management of a new Centennial Record. The Group has assembled and maintains The Village Archive, an extensive collection of material relating to the buildings, people and activities of Abbots Leigh over the past two hundred years.  You can read more at Our History and Heritage.
ABBOTS LEIGH – A HISTORICAL CONTEXT
Murray and Diane Stewart write:
In June many of us will have watched the absorbing story of 10 Guinea Street (A House Through Time, BBC2). It depicts the history of the families who lived in that house in Redcliffe over the last three centuries.There are connections to our local area.
John Haberfield was born at 10 Guinea Street in 1783 and grew up there till he was twenty. He became a lawyer, magistrate and six times Mayor of Bristol between 1837 and 1850. The stretch of the A369 between the Pill junction and Martcombe is still called Haberfield Hill, Haberfield Well is marked by the stone tower close to the bridge over Markham Brook and the bridge itself has a plaque recording that 'This road having been raised and widened was reopened 9th December 1850 by Sir John Kerle Haberfield, six times Mayor of Bristol'. Sir John built Haberfield Hall on Happerton Lane and lived there for some years before dying at Royal York Crescent in Clifton in 1857.
The families of 10 Guinea Street suffered, as did many in Bristol, from poverty and ill health. Death certificates for the 1880s and 1890s uncovered for the House Through Time programme report many child deaths from infectious disease – measles, whooping cough, bronchitis, tuberculosis. Scarlet fever and diphtheria remained dreaded diseases till the end of the century, but in 1894 Bristol Corporation, searching for a site for an isolation hospital to meet their public health obligations, bought Ham Green House and created an isolation hospital. The Hospital opened in 1899, had 185 beds and 889 patients in 1907.
Ham Green Hospital figured again in the final episode. Cyril Tabrett - commercial traveller, postman, con-man, petty thief was a Guinea Street tenant in 1948 but disappeared off the map for forty years before meeting his death at Ham Green in 1977 – without relatives, friendless and signed off by a hospital administrator.  A House Through Time also showed that, for its first hundred years, 10 Guinea Street generated great wealth, as did the whole of Bristol, from the slave trade – the triangular trade from Bristol to west Africa, to the Caribbean and back to Bristol.
The slave trade offers another, very different, connection with Abbots Leigh. Robert Bright of Church Road owned 1,349 slaves, William Weare 117 slaves. William Miles had owned and run slave manned sugar plantations in Jamaica and built the Sugar House in Bristol (now the Hotel du Vin at Lewins Mead). His son Philip John Miles, Bristol's first millionaire, owned or financed 25 ships over 300 tons from 1800 onwards, engaged mainly on the Jamaica run. With 26 sugar estates he owned 2,767 slaves in Jamaica and 262 in Trinidad – over 3,000 slaves in total.
In 1811 Philip John Miles bought the 2,200 acres of Abbots Leigh Estate and built Leigh Court together with a number of estate worker cottages. Commemorated within Holy Trinity Church, his epitaph reads 'simple and unostentatious in his habits he trusted not in riches but was ever ready liberally to assist his friends and to relieve the necessities of the poor.'  A small notice is to be placed alongside this epitaph to provide a more balanced historical context against which a greater awareness and fuller understanding of all aspects of John Philip Miles' career and life can be made.
Rescuing Heritage
Many Abbots Leigh residents may not know of the historic Tudor Canal and Gazebo which can be found opposite Brackenwood Garden Centre.  These are the only visible remnants of the gardens of the Tudor Old Court House, home of the Nortons and Trenchards until its demolition when Leigh Court was built in 1817.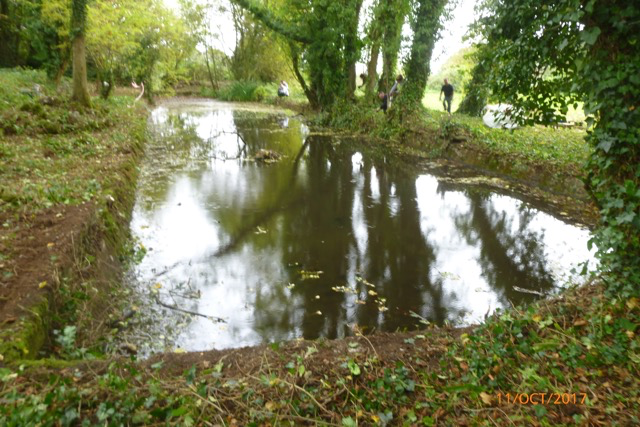 On Thursday 11th October a group of volunteers from Lloyds TSB Bank, joined by helpers from Avon Gardens Trust and your own Heritage Group, spent the day cutting back trees, clearing undergrowth and tidying up the surrounds of the canal.  Whilst the Gazebo (the tower like building beside the canal) is in poor condition the canal is now visible from the road revealing an important historical feature from over three hundred years ago.  With the Freeways Trust (who own the site) and Avon Gardens Trust, the Heritage Group will be working both towards maintenance and improvement of the canal and gazebo and providing an information board for those passing by.
Strengthening the Heritage Group
Whilst increasing numbers of village residents are now attending our meetings, the Group is dependent on a few active enthusiasts to plan ahead and stimulate interest in our heritage.  If you would like mto help or have any questions please email the Webmaster.
Further information on the wider area can be found at Avon History & Archaeology.