Sale of the Estate
The Centennial Record
The Village Archive
Sale of the Estate
The Centennial Record
The Village Archive
The outlines of the original dower house or lodge which date from the eighteenth century can still be seen at the right hand end of the current Manor House. Extended through the nineteenth century the Manor House was often vacant - in the 1891, 1901 and 1911 censuses it remained empty or with servants only - but from time to time was let to wealthy tenants or friends of the Miles family.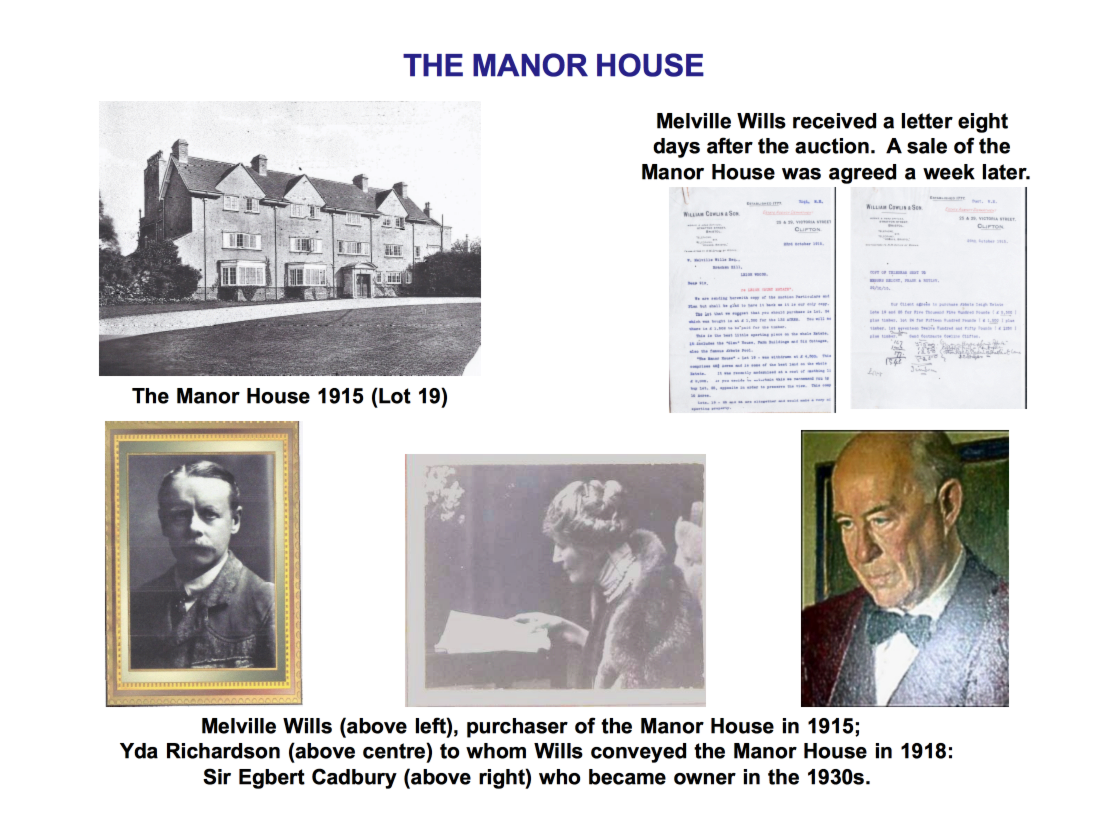 Amongst its tenants were, in 1861, the widowed Elizabeth Lloyd from Clifton (recorded in census as 'fundholder' by occupation). In 1971 The Manor House was occupied by the thirty nine year old Charles John William Miles who had married Elizabeth Maria Lloyd (daughter of Elizabeth Lloyd above).
From 1878 to 1891 Jeremiah Osborne occupied the Manor House and Robert Fenton Miles was there in 1897. In early 1915 The Manor House was briefly tenanted by Francis Hadden until he was posted from Shirehampton to Egypt with the Remount Squadron. At the October sale it was offered with vacant possession but failed to sell.
A fortnight later it was snapped up by Melville Wills, together with Glen House, White Lodge and a vacant plot opposite the Manor House see Note 14 for more information about the properties acquired by Wills). In 1916 Albert Hams, gardener, was recorded as living at the Manor House but in 1918 the Manor House was sold to Mrs Yda Richardson who before her marriage was Yda Stancomb Wills, adopted niece of William Wills, later Lord Winterstoke. She lived at the Manor House until her death in 1936. Later occupants were for many years Sir Egbert and Lady Cadbury, a DRG Management Centre, and most recently the Manor Nursing Home.