Sale of the Estate
The Centennial Record
The Village Archive
Sale of the Estate
The Centennial Record
The Village Archive
Ham Green House dates from the early eighteenth century and was occupied first by Richard Meyler. Henry Bright, apprenticed to Meyler, later married his daughter Sarah, and by the mid 1770s Henry's son, Richard, had inherited the Meyler properties including Ham Green House. In 1790 Richard Bright (1754-1840) moved to Ham Green and the Bright family, headed by next generation Richard Bright of Bright's disease fame (1789-1858), lived there for seventy years.
Richard's brother Robert had meanwhile acquired The Chantry in Abbots Leigh. The Brights had close connections with the Miles family (Richard's brother Onesiphorus married Catherine Bright in 1856) and, after Richard Bright died, Ham Green House came into the ownership of the Miles. William Henry Miles (1830-1888) appears in the 1871 and 1881 Censuses as resident at Ham Green.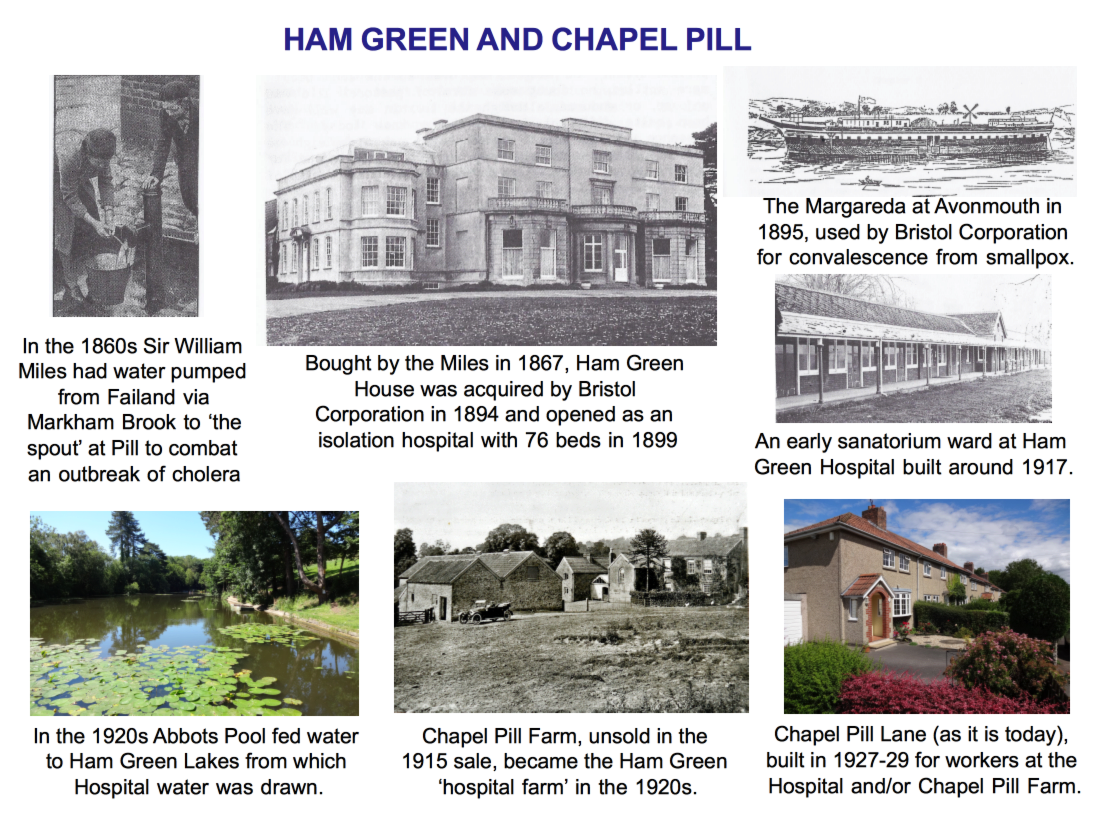 Ownership after 1881 is unclear.  In 1895 Bristol's provision for smallpox was limited to two wooden houses on St Philip's Marsh and a Norwegian barque anchored at Avonmouth, but in 1894 Bristol Corporation, searching for a site for an isolation hospital to meet their public health obligations, bought Ham Green House and created around it an isolation hospital, later enlarged as a Sanatorium.
The Hospital opened in 1899, had 185 beds and 889 patients in 1907, and by 1927 had grown to 235 beds and 1415 patients.  Throughout this period whilst smallpox and typhoid had been initial drivers for the hospital the major illnesses treated were scarlet fever (370 cases in 1907 rising to 714 in 1927 and diphtheria (445 to 463 cases).
Throughout the nineteenth century Chapel Pill Farm was tenanted by Joseph Fyson, Robert Bryan and from 1861 by the Gage family and in 1915 Annie Gage, widowed, was tenant.  The farm was not sold at the Abbots Leigh sale, but in 1923 was acquired by the Ministry of Health and Bristol Corporation and became part of a much larger block of hospital property stretching up almost to Leigh Court and including some farmland west of the Bristol Pill Road.
On Chapel Pill Lane the Hospital built – probably between 1927 and 1929 - eight cottages for hospital/farm workers.In November 1956, after nationalisation, the Ministry of Health/Bristol Corporation holding was put up for auction and bought by Alvis Brothers in whose ownership it remains.