Sale of the Estate
The Centennial Record
The Village Archive
Sale of the Estate
The Centennial Record
The Village Archive
Families at Work highlights three of the most entrepreneurial families in Abbots Leigh and Pill.There were several Rowles families in Abbots Leigh from 1861 to 1901 and Bertha Rowles was working at The Priory in the first decades of the twentieth century, but Pill shipbuilder Edwin (Cracker) Rowles lived and died in Clifton and was not himself resident in Abbots Leigh.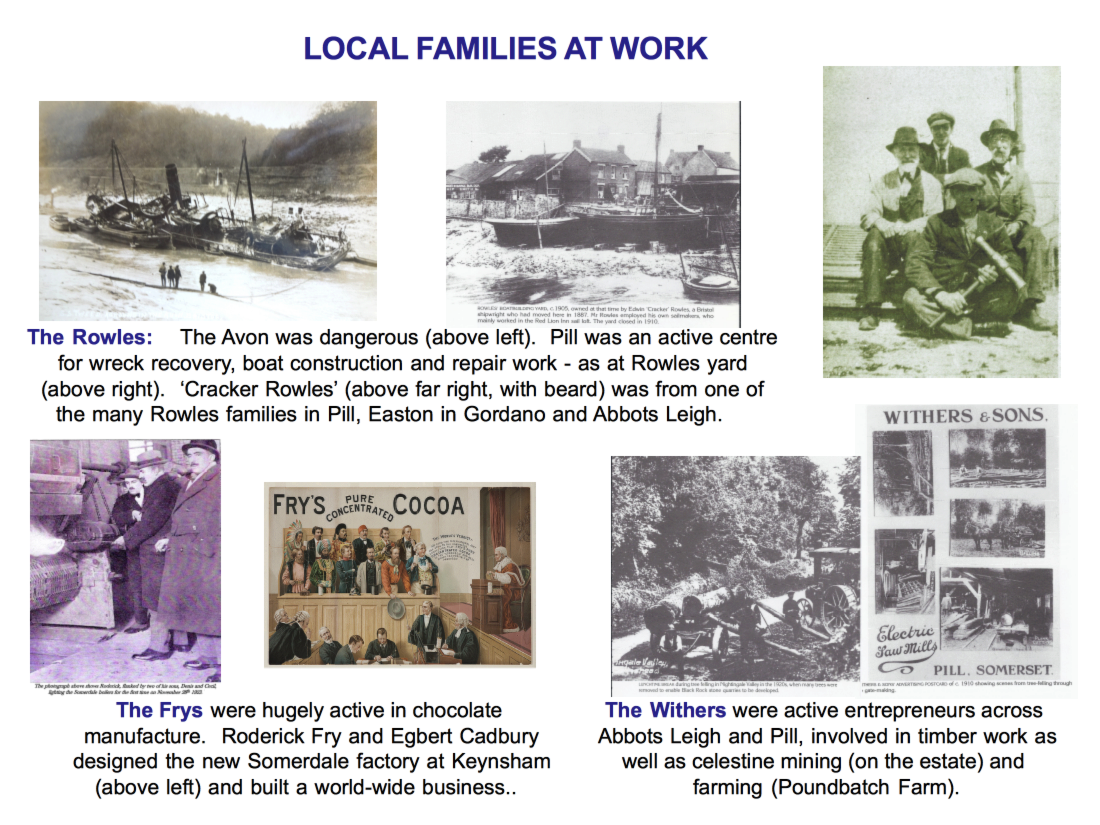 Richard Beard Withers, and before him his father John Beard Withers had farmed Poundbatch Farm from the 1880s but the Withers had wider interests than farming, and both Richard and his sister Elizabeth (later Chapman) were significant entrepreneurs. The family was engaged in a number of land related activities – timber, celestine mining, sawmilling. – and Elizabeth and her son Benjamin became active in the 1930s in selling/developing land at Dennyview, Knightcott, and Glen Avenue.
Roderick Fry lived at The Priory from 1901 with his wife Janet and three sons. In 1919 J.S. Fry and Sons merged with Cadbury Brothers. Egbert Cadbury (later to live at the Manor House) joined the Fry side of the business and Fry and Cadbury together planned and developed the Somerdale factory at Keynsham.
There were others in Abbots Leigh with business interests. Inghram Gunn, who purchased Abbots Leigh House in 1916, was a senior manager of the Bedminster Wills factory.  Donald Kennedy, who bought the Upper Gateway Lodges in 1915 was a well-off sixty year old colliery owner from Bath. Beaumont Kennedy and Co. owned the Upper and Lower Conygre pits on the Somerset coalfields near Timsbury which had been abandoned in 1912.
Three quarries on the Avon, with access rights to the river beyond the Great Western Railway produced over 20% of the total estate rental in 1915. United Alkali mined one of the quarries for limestone from which chloride of lime and bleaching powder were obtained.