Sale of the Estate
The Centennial Record
The Village Archive
Sale of the Estate
The Centennial Record
The Village Archive
The Reverend Harold Nelson Burden had moved to Bristol in 1895 and in 1902, stimulated by the 1898 Inebriate Acts which established the National Institutions for Persons Requiring Care and Control.  Following the Mental Deficiency Act of 1914 his first colony was established at Stoke Park and in 1915 Burden jumped at the opportunity to buy the unsold 76 acre Leigh Court Mansion.  

Burden and his wife Katharine agreed in March 1916 the purchase, for £9,000, of Lot 1 as specified in the 1915 catalogue.  This was above the reserve of £7,500 which had been placed on the mansion six months before.  Payment was by a £1,000 deposit and eight subsequent annual payments.  No interest was charged but the vendor was to be responsible for insurance to the value of £16,000.      

Whilst Cecil Miles' will had stipulated a payment of £500 a year to Dame Minnie Miles for life, the 1916 Miles/Burden agreement stated that the annuity should be taken to be 'determined,' that is discontinued.  The draft agreement stipulated that Jeremiah Osborne of Osborne Ward Vassall & Co. a former Abbots Leigh resident at the Manor House, would, if required make a statutory declaration that he 'has been intimately acquainted with Miles family for upwards of thirty seven years and that he has always understood and believed that the Vendor is the eldest son'.  This he had done in February 1916, and Leigh Court passed to the Burdens, with the deal formally completed in 1926 after seven of the eight instalments had been paid.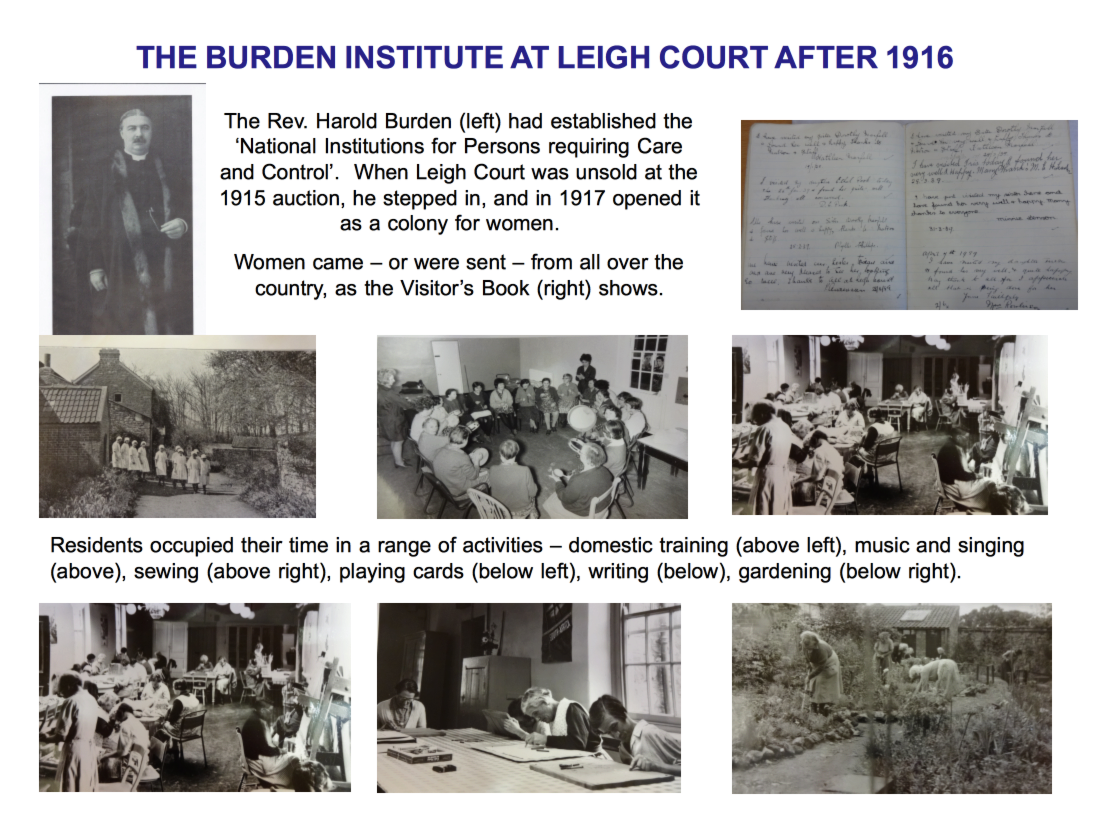 Leigh Court itself remained in the ownership of the Burdens until 1939 when Harold Burden's second wife Rosa died, but thereafter the Trustees of the National Institutions retained freehold ownership of Leigh Court.  In 1948 the Ministry of Health took over the lease and later bought the property.  It continued as an NHS hospital until 1985, when it came into the ownership of St Christopher's School.  Whilst the former land and buildings on the old Leigh Court Estate have been sold and resold over the years, none has been sold for new development since 1915 to this day.

Leigh Court Mansion and the Miles family had been the seat of power for over a century, but under Harold Burden Leigh Court ceased to have the same significance for the village.  As a Burden colony it was largely self-sustaining (with some 200 women and girls doing the work under supervision).  Although some women worked locally, the colony and the village did not interact to any great extent.