Sale of the Estate
The Centennial Record
The Village Archive
Sale of the Estate
The Centennial Record
The Village Archive
In 1818 Philip George of the Bristol based George's brewing family bought the Redcliffe Street shot tower.  His son, Christopher George, expanded the lead shot business and in 1831, as a wealthy newcomer to Abbots Leigh, took on a lease of land from the Miles and built The Priory (and added the conservatory from 1836).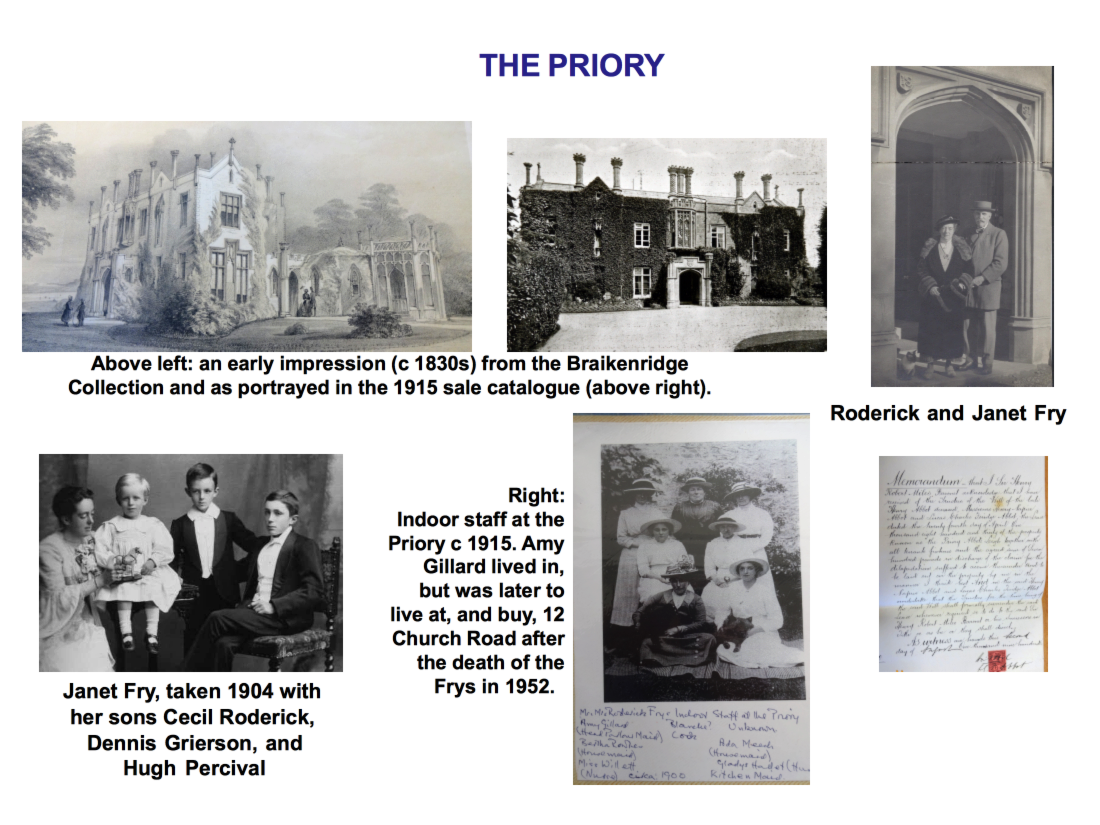 The Priory grounds, adjoining the George Inn, stretched from Manor Road down to Sandy Lane and included a walled garden, land adjoining the main Pill Road and a gardener's cottage – now Priory Cottage.  The gardener in the 1830s-40s was George White and a clock given to him on his wedding day in 1845 had a small image of Priory Cottage above the clock face.  

Christopher George had moved back to Gloucestershire by 1851 and by then The Priory was occupied by the Liverpool born John Johnson Brown, his son and daughter,  a governess and five servants.  By 1861 Henry Abbot, a Bristol attorney at law, his wife Martha, five children and five servants were resident.  Henry Abbot died in 1874 but Martha remained at The Priory until her death.  

By 1901 Gilbert Leigh Abbot (1860-1925) was living in The Bungalow on Manor Road on land adjoining the Priory Estate but not part of it.  The Priory itself had been taken over by Roderick and Janet Fry with their sons Cecil Roderick, Dennis Grierson and Hugh Percival and a number of 
servants.  Roderick and the two elder sons enlisted and returned safe from the war.  Dennis Grierson Fry married (Norah and they moved to live at Leigh Lodge when Colonel Batten moved away from Abbots Leigh in 1924.  

Roderick and Janet Fry continued at the Priory until 1952 when both died.  The Priory Estate was put up for auction in December of that year divided into six Lots.  Three of the Lots were sold (the walled garden, the orchard, and the gardens on the main road), but others were withdrawn.  The Priory itself was sold later to developer William (Billy) Bray, and Priory Cottage was also sold off.