Sale of the Estate
The Centennial Record
The Village Archive
Sale of the Estate
The Centennial Record
The Village Archive
Thorstein Veblen (1857-1929), Norwegian born American economist, invented the concept of 'conspicuous consumption' – consumption undertaken to make a statement to others about one's class or accomplishments.
Philip John Miles is a fine illustration of the concept in practice. William Evans reminds us that 'an urban man in possession of a good fortune must be in want of a country estate', and he suggests that Miles' career represented a deliberate strategy of promotion from trade to gentry.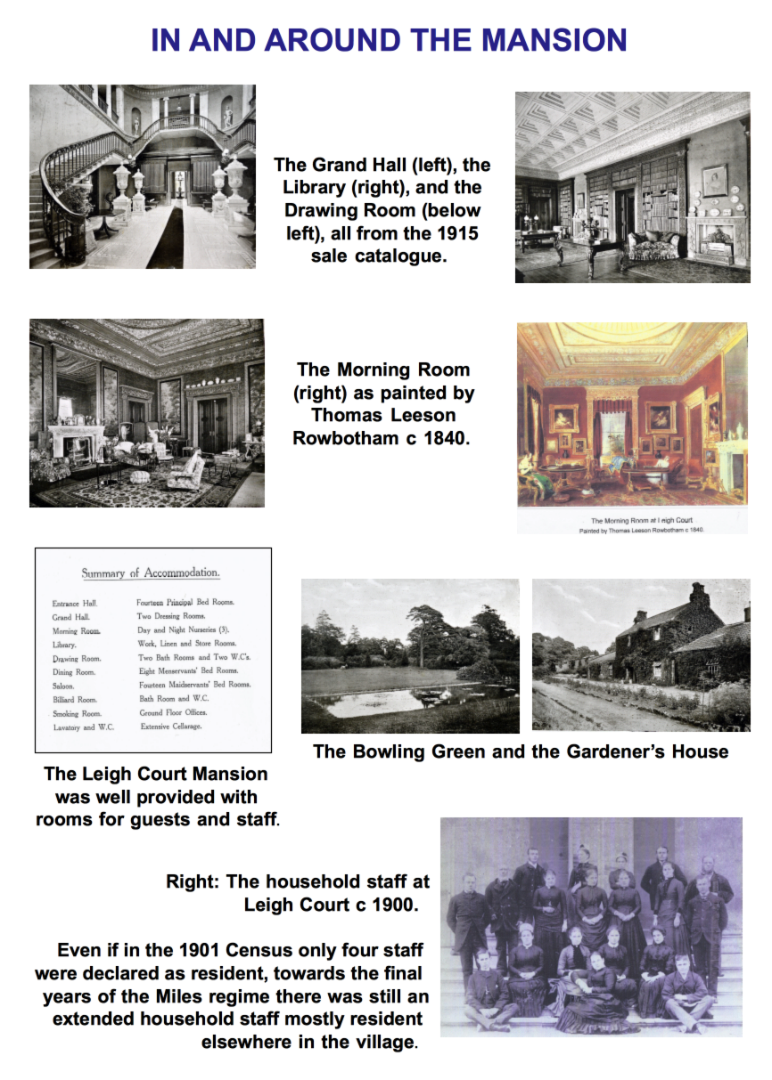 Within the richly decorated Leigh Court Mansion Philip Miles was not one to conceal his wealth. The architect was Thomas Hopper former architect to the Prince Regent, whilst for landscaping Miles employed Humphrey Repton. Together with a library and surrounding halls for family use and entertainment, there was a magnificent central hall with an Adam ceiling and an organ.
In addition to being played manually, this could originally be set to play the overture and a duet ("Ah, Perdona") from Mozart's Clemenza di Tito.  From 1822 Miles established a major collection of over a hundred paintings representing many Old Masters – Domenichino (including the St John the Evangelist sold in 2009 for £9.2 million), Titian, Poussin, Michelangelo, Raphael, Rubens, Claude Lorrain and Van Dyke as well as numerous family portraits.
The collection was open on Thursdays to the Bristol public on obtaining a ticket from Miles Bank in Queen's Square. A catalogue, with seventy six etchings from the collection was prepared for Miles in 1822 by John Young, Engraver in Mezzotinto to his Majesty.