Sale of the Estate
The Centennial Record
The Village Archive
Sale of the Estate
The Centennial Record
The Village Archive
Philip John Miles demolished the Old Court House and commissioned a new mansion from architect Thomas Hopper with landscape gardening from Humphrey Repton. Miles often ignored Repton's advice but forced a major reorganisation and enhancement of the estate. Two new entrances to the Leigh Court estate were created, the first from the Upper Lodge on the Bristol Road, down a lane (now Coronation Avenue), through Oak Wood and up to the new mansion, the second from a second lodge on the Pill Road. By contrast with the establishment of two new entrances Miles removed a public right of way through the middle of the estate obtaining an order stopping up a right of way which ran from Beggar's Bush through Leigh Down down to the Old Court House and thereafter up to Ham Green. Having secured some privacy Miles turned the old warren into a new Downs Park and established Lower Farm (later Home Farm) closer to Leigh Court.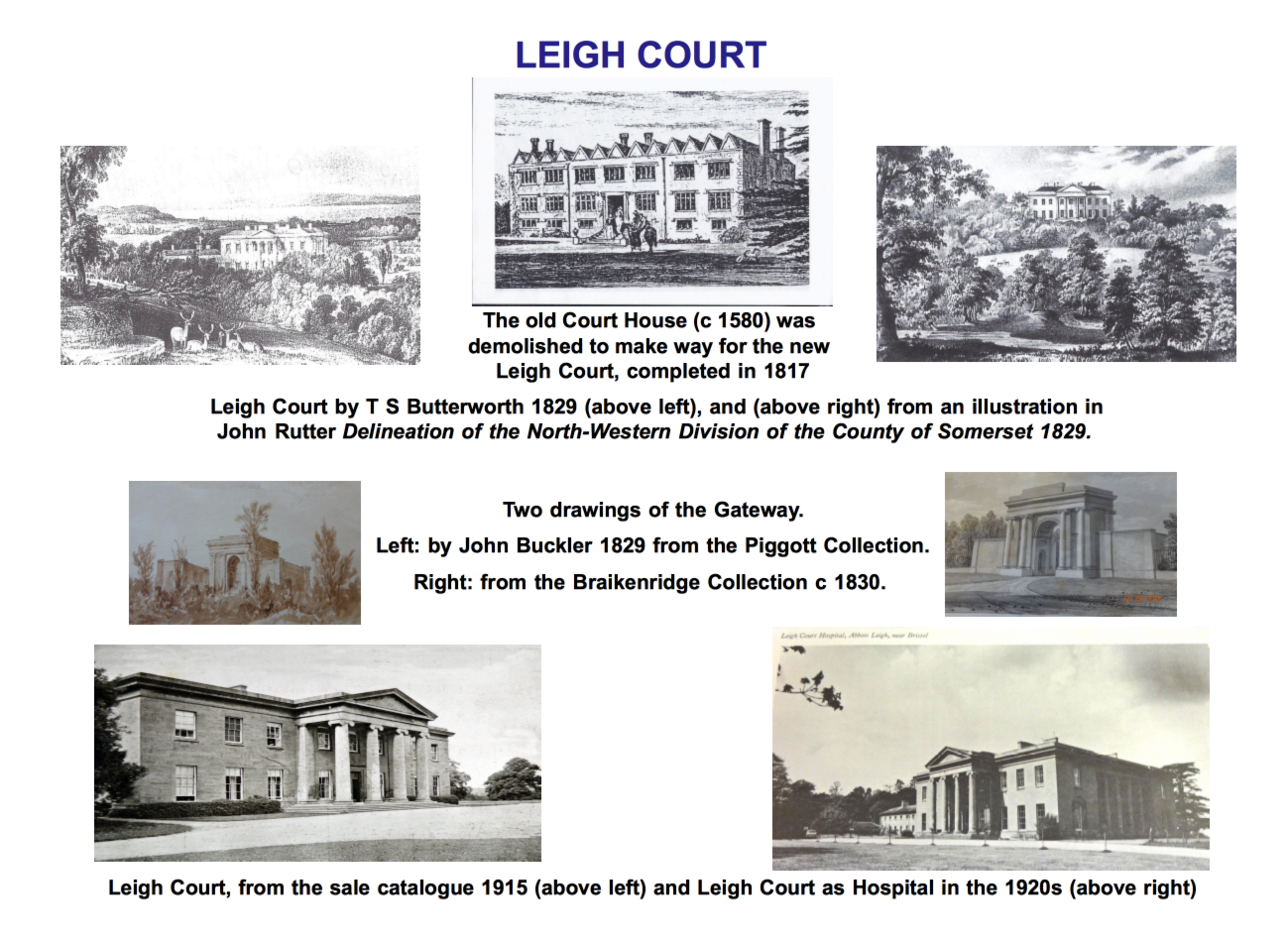 Around the house in 1915 there was a walled kitchen and fruit gardens, a gardener's house, stabling and garage (for twenty horses and five large motor cars) and 'pleasure gardens' (tennis and croquet lawns, bowling green and a rose garden with fishpond). The Miles family occupied Leigh Court for almost a hundred years from 1817. When Leigh Court was unsold at the auction the Reverend Harold Nelson Burden, having established the National Institutions for Persons Requiring Care and Control, jumped at the opportunity to buy the mansion and surrounding grounds and completed a purchase in March 1916. Burden provided residential care and support for over two hundred women and girls, and Leigh Court remained in the ownership of the Burdens until 1939 when Harold Burden's second wife Rosa died.
In 1948 the Ministry of Health took over the lease of Leigh Court,continued to run it as a hospital, and eventually bought it from the Burden Trust. In 1985 the property was no longer needed by the NHS and Leigh Court came into the ownership of St Christopher's School which held it for a further three years. Sold in 1988, Leigh Court passed to a development company (which went into receivership) and from 1992 has been owned and developed as a business and conference centre by the JT group together with Leigh Court Associates.