Sale of the Estate
The Centennial Record
The Village Archive
Sale of the Estate
The Centennial Record
The Village Archive
Henry Bright moved from Worcestershire in the mid eighteenth century and his grandsons, Richard (discoverer of Bright's disease and owner of Ham Green House) and Robert, inherited a mansion-house property in Abbots Leigh later to be named The Chantry.
Robert Bright, cotton and sugar trader, prominent landowner, partner in the mercantile and shipping house of Gibbs & Bright of Bristol, Liverpool and London, and slave-owner with over 1000 slaves in Barbados and Jamaica, married Caroline Tyndall in 1821. There were ten children – several buried in the Abbots Leigh churchyard. And one daughter Caroline Margaret Anna lived on in Abbots Leigh until her death in 1917.
The 19 acre property on Church Road stretched from Leigh Lodge right along to the Church, with extensive grounds behind. In addition to the main residence, a farmery, stabling and coach houses, there was a gardener's cottage (smallholding) which is shown in the 1871 Census as The Village Club.
At the time of the 1915 auction, with Caroline Bright still in residence, The Chantry remained unsold, but when she died in 1918 the property was again put up for auction. It was split into three lots – the main residence itself with pleasure ground, paddocks and pasture, a small holding with a house and outbuildings and, at the church end of the site, four acres of pasture land.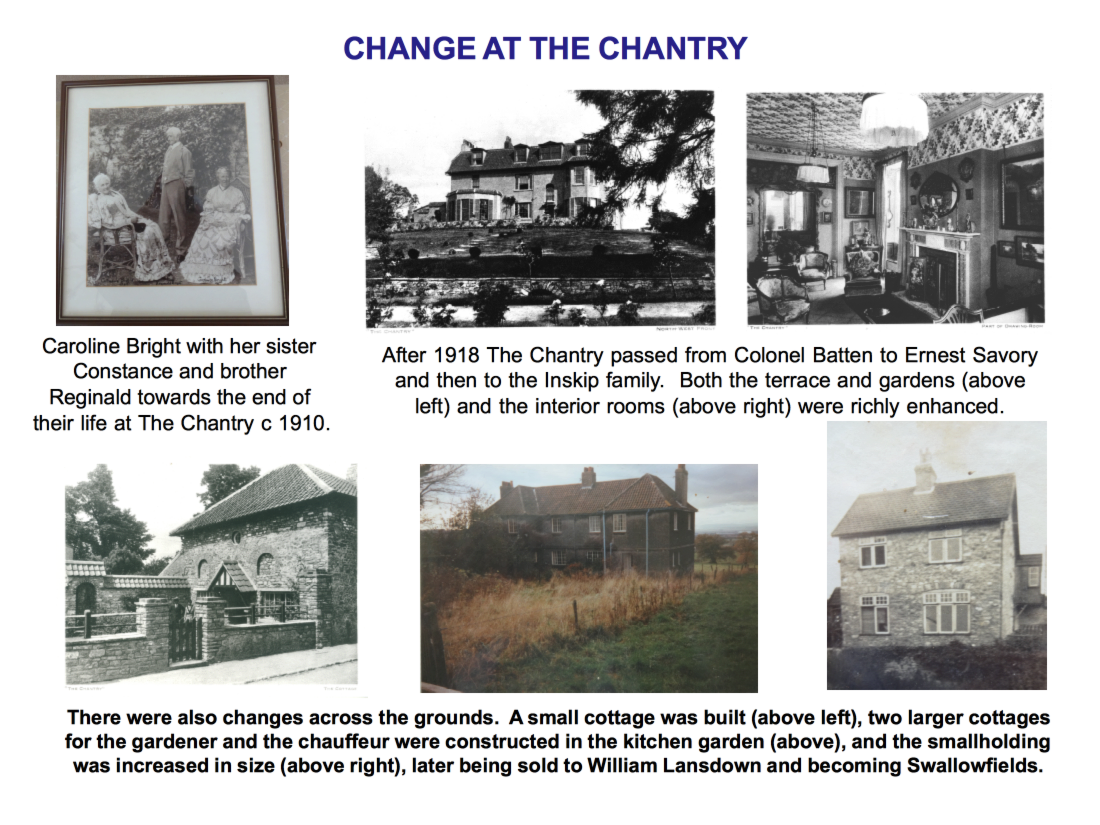 The property was bought jointly in June 1918 by Colonel Herbert Carey Batten (Leigh Lodge) and Inghram Gunn (Abbots Leigh House) for £4,000. There had been earlier haggling over how to split up the site, the key issue being how to secure Inghram Gunn the power to remove trees and shrubs to avoid obstructing the view from Abbots Leigh House. A covenant protecting this part of the site still stands.
Between the 1915 and 1918 auctions the smallholding had been improved adding a hall and dining room at the rear. The Chantry was sold to Ernest Savory who in turn made improvements and sold on to the Inskips. The Inskips improved the property further over the next twenty years. Cottages were built in the grounds for the Inskip chauffeur Ackerman and gardener Mitchell, whilst the smallholding was sold to William Lansdown when it became known as Swallowfields. Today there remain The Chantry, Chantry House, Chantry Cottage and Chantry Fields.